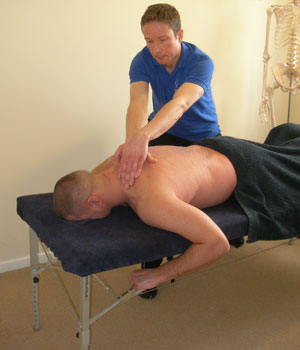 Modern life can cause all sorts of problems for our bodies, whether sitting at a computer for hours on end, doing a job that involves repetitive movement or driving for long periods.
These types of activity over time can affect muscles and joints which can lead to pain and problems developing.
I can help relieve your muscular pain and discomfort caused by these activities with remedial massage and soft tissue therapy.
How remedial massage can help
Remedial massage treatment helps restore muscles and connective tissue/fascia, tendons, ligaments and joints and most importantly helping relieve musculoskeletal pain.
Remedial massage and soft tissue therapy is an effective treatment for the following injuries and problems.
Back and neck pain
Sciatica
Shoulder pain and problems
Headaches
Postural related problems
Tennis and golfers elbow
Muscular Spasms
Plantar Fasciitis
Running injuries
Piriformis Syndrome
Achilles Tendinopathy
We start with an initial consultation followed by an assessment and treatment. The assessment and treatment can takes up to 60 minutes at my clinic in Shrewsbury. Where I take the time to get to know you and get to the root cause of your problem.
I will then tailor a treatment and rehabilitation plan along with your goals to suit your needs.