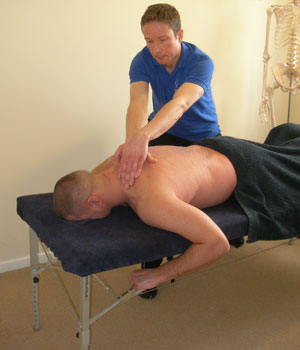 Modern life can cause all sorts of problems for our bodies, whether sitting at a computer for hours on end, doing a job that involves repetitive movement or driving for long periods.
These types of activity over time can affect muscles which can lead to musculoskeletal pain.
I can help relieve your muscular pain and discomfort caused by these modern day occupational activities with remedial massage and soft tissue therapy.
I have helped:
Computer software engineers, office workers
Builders, plasterers, painters and decorators
Nurses, care workers
Police officers
Armed forces servicemen
Professional stunt actors
We develop problems through bad postural habits in our daily lives.
These problems develop over time, but a course of remedial massage and soft tissue therapy can ease your pain and help put you on the road to recovery.
How remedial massage can help
Remedial massage and soft tissue therapy treatment helps restore top performance to your muscles and connective tissues, improving blood flow and flexibility of your joints, and can improve posture, and most importantly helping relieve musculoskeletal pain.
Remedial massage and soft tissue therapy treatment has been proven effective in managing the following injuries and conditions:
Back pain (Sciatica)
Neck pain
Shoulder injuries and problems (Frozen Shoulder)
Headaches associated with posture and musculoskeletal problems
Postural related problems (Chronic)
Sports and Occupational/work related injuries (Back, neck, shoulder, hip, knee, elbow, wrist, ankle, foot or hand
Tennis/Golfers Elbow and Golfers shoulder
Carpal Tunnel Syndrome
Muscular Spasms
Foot pain (Plantar Fasciitis)
Runners Knee
Piriformis Syndrome
Achilles Tendinopathy
We start with an initial consultation followed by assessment and treatment. The assessment and treatment usually takes around 90 minutes at my relaxed and modern clinic in Shrewsbury, where I take the time to get to know you and find the root cause of your problem.
I will then tailor a treatment plan along with your goals to suit your needs.
I use a variety of advanced remedial massage and soft tissue techniques, neuromuscular techniques (NMT), muscle energy techniques (MET) and soft tissue release (STR) positional release technique (PRT) myofascial techniques, instrument assisted soft tissue mobilisation (IASTM) and kinesiology taping to relieve your symptoms of muscular pain and discomfort.
I also offer remedial exercise and nutrition advice to help you improve your health and fitness – which can help prevent your pain from returning.